NVE AD004-00E
The NVE AD004-00E precision digital magnetic sensor from NVE have a precision magnetic operate point of 20Oe (Typ.) with a frequency response of 0 to 100KHz and an excellent temperature and voltage perfomance. NVE's AD Series of GMR switches are the industry standard for sensitivity and precision. These switches integrate GMR sensor elements with digital signal processing electronics, and are more precise than other magnetic sensors, with magnetic field operate points being stable over voltage and temperature extremes
Precision digital magnetic sensor
Digital NPN open-collector output
Supply voltage 4.5Vcc to 30Vcc
Supply current 2.5mA (Vcc=12V)
Output drive 20mA
Temperature and voltage stability
Models available with short-circuit protection
MSOP8 package
Frequency response to 100KHz
The AD004 sensor outputs turn ON when the magnetic field exceeds the 20 Oe operate point, and OFF when the field drops below 10 Oe. The output is "Omnipolar", meaning the output will turn ON irrespective of the magnetic field polarity. Digital switching is achieved when the magnetic field passes along the standard axis (top to bottom) of the IC. The AD004 outputs are NPN open-collector and should have external pull-up resistors. For microcontroller interfaces, the microcontroller's input pull-up resistors can be activated
Typical applications for the AD series include:
Motion, speed and position sensing
Pneumatic cylinder position sensing
Speed sensing
The below table gives the full specifications of the NVE AD magnetic sensor series including the AD004-00E: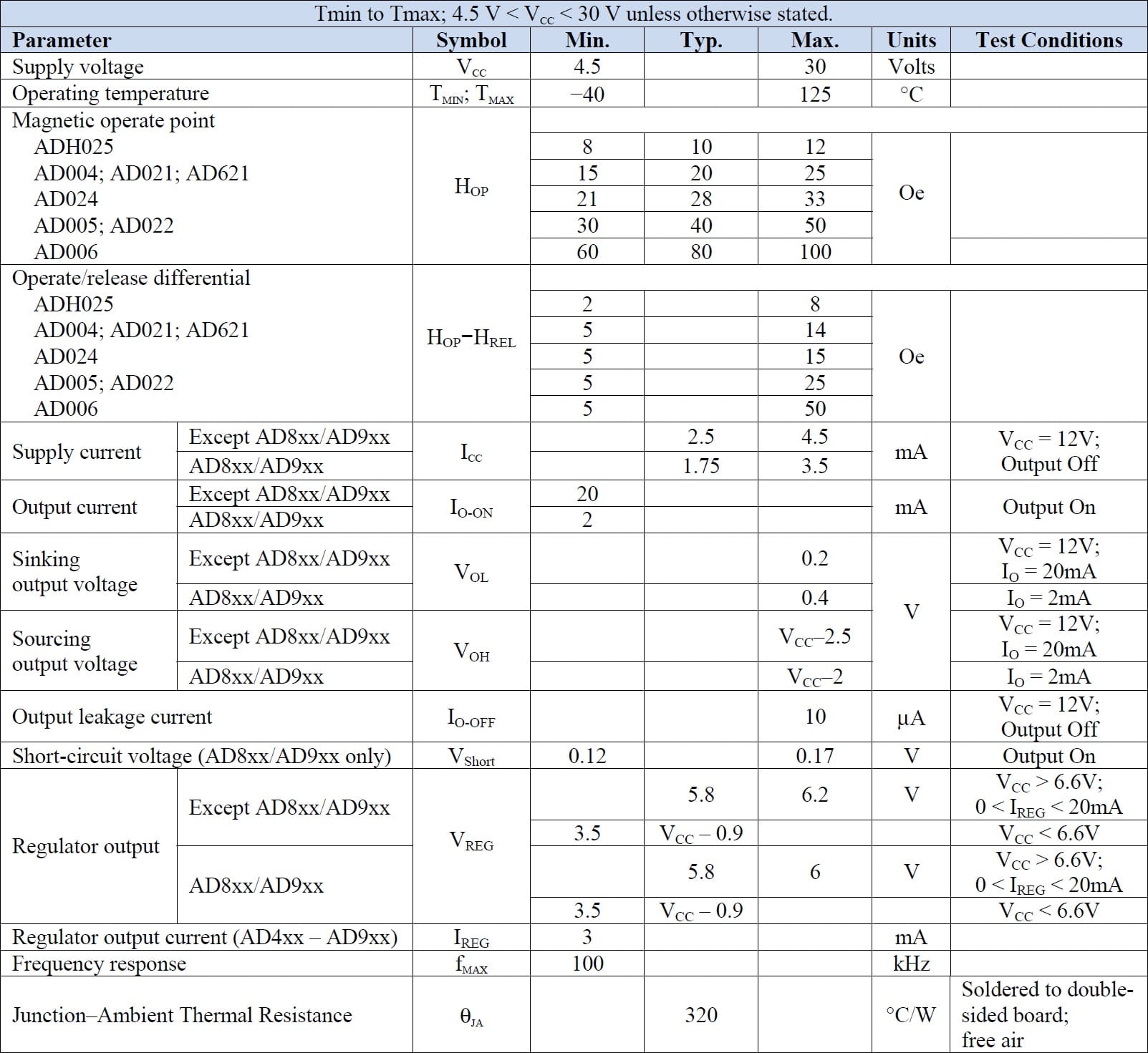 Specifications
Additional Features

Digital NPN Open-Collector output
4.5Vcc to 30Vcc supply voltage
MSOP8 package
2.5mA supply current (Vcc = 12V).
20 mA output drive
Temperature and voltage stability
Models available with short-circuit protection
Frequency response to 100KHz

Magnetic Orientation
Standard
Operating Temperature
-40°C to +125°C
Opreate Point
20Oe (Typ.)
Output Configuration
Current Sink
Release Point
10Oe (Typ.)
We are pleased to provide you with a range of additional content including videos, product datasheets, case studies, white papers and application notes for your reference. Please see below for the latest content available:
This product is available fully compliant to the RoHS EU directive 2011/65/EU.